Features:

1. The hydraulic BX92R wood chipper is a 9 inches chipping capacity chipper.

2. With 225kgs weight flywheel(37 inches diameter).

3. This chipper's material is Q235 steel, it's very stable.
Description:

The BX92R is the big brother of the BX62R. Through its hydraulic feed is working with this machine a delight. Subsequent pushing, pressing, etc., there is not in this model; do that the two large feed rollers alone. The speed of the feed rollers can be varied continuously. This is important in order to align the feed speed on the diameter of the Schredderguts.

Smaller diameters can be recovered faster than larger diameter. If the collection nevertheless once block may be set to the reverse mode on the large bracket on the hopper of the catchment. In addition, the feeder can also be disabled in this clip.

This is the latest version of the BX92R, which has a bilateral suspension of the feed rollers, and a reinforced feed hopper.

The wood chipper is supplied complete with PTO. In the PTO is on one side of a shear pin fitted, which serves as a predetermined breaking point for safety reasons in blocking or overloading. So you can easily use larger tractors with more than 65 hp. You should have at least a motor power of 50 hp. The PTO speed must be 540 - 1000 U / min. amount.

The hopper has a top opening of 63.5 x 63.5 cm; at the bottom of the opening has a dimension of 25.5 x 38 cm. Maximum, a diameter of 25.5 cm are shredded. Softer woods, up to 38 cm are shredded, if necessary; and such diameter is processed into firewood in the rule and not shredded.

Technical Specifications: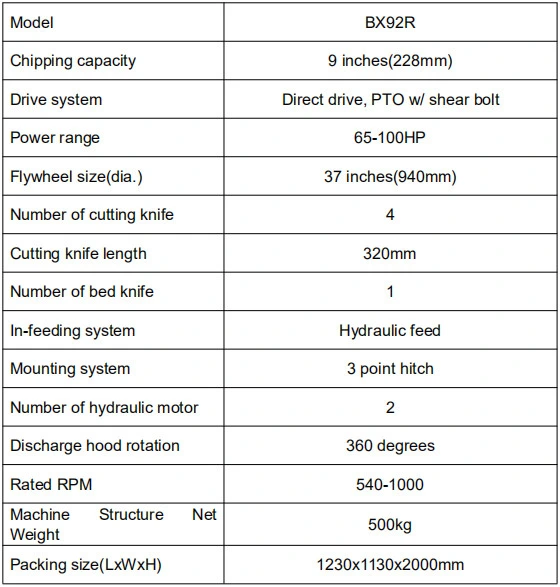 FAQ: