SINO MACHINERY

has been supplying more than 500 sizes Wheel Rims, including Snow Wheels,Trailer Steel Wheels,4x4 Wheels, Passenger Vehicles Wheels, Agricultural Wheels, Forklift Wheels and so on.






Packaging & Delivery


Packaging Details: By palltes with plastic wrapping
Delivery Detail: Within 30 days after deposit

Specifications
8 Spoke Steel Wheel Rim for Trailer
1. Tube&tubeless wheel rim with different size
2. Good quality, competetive price
3. White finish with red and blue stripes

Product Image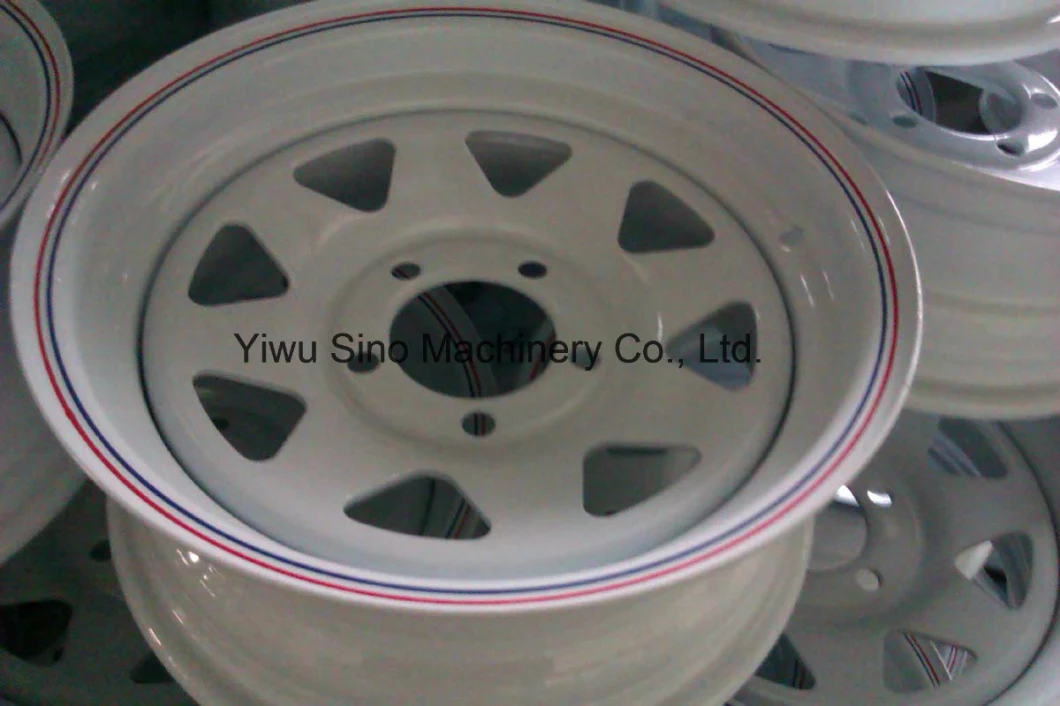 Company Information
SINO MACHINERY Co., Ltd is a professional wheel solution company established in 2003. Since the beginning of establishment, our company provides the best value of steel wheels, Aluminum forged truck wheels, casting brake hubs, brake drums to market. Because of the strict quality control system, our products enjoy high reception and reputation in Southeast Asia, South America, East of European, South Africa, Australia and New Zealand.
We sincerely welcome customers old and new to make long term and multi-benefit business.
SINO MACHINERY--We are specialized in wheels.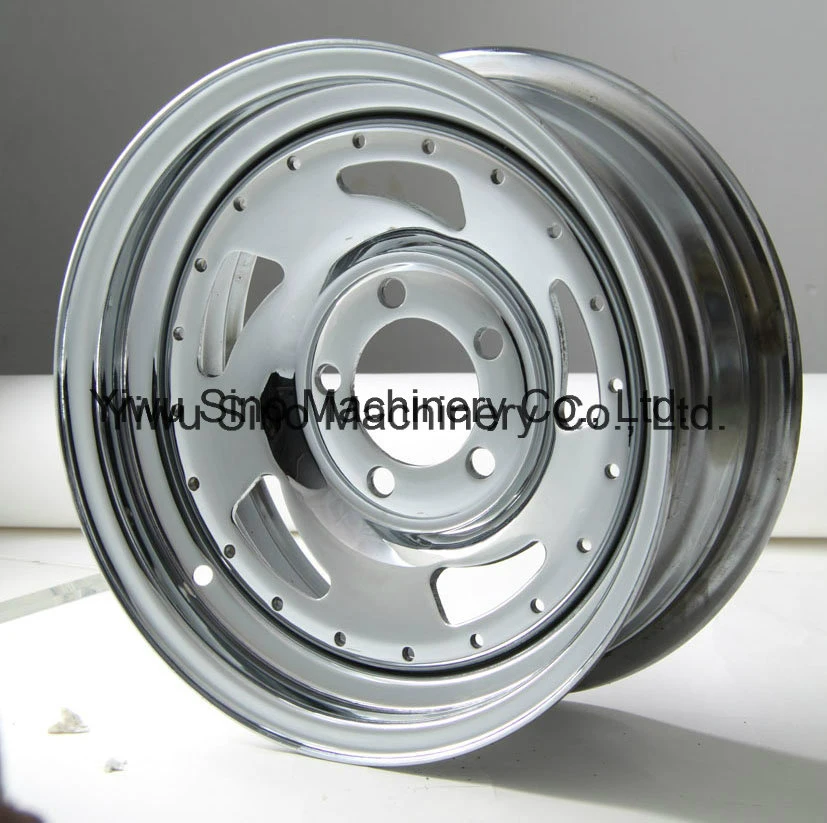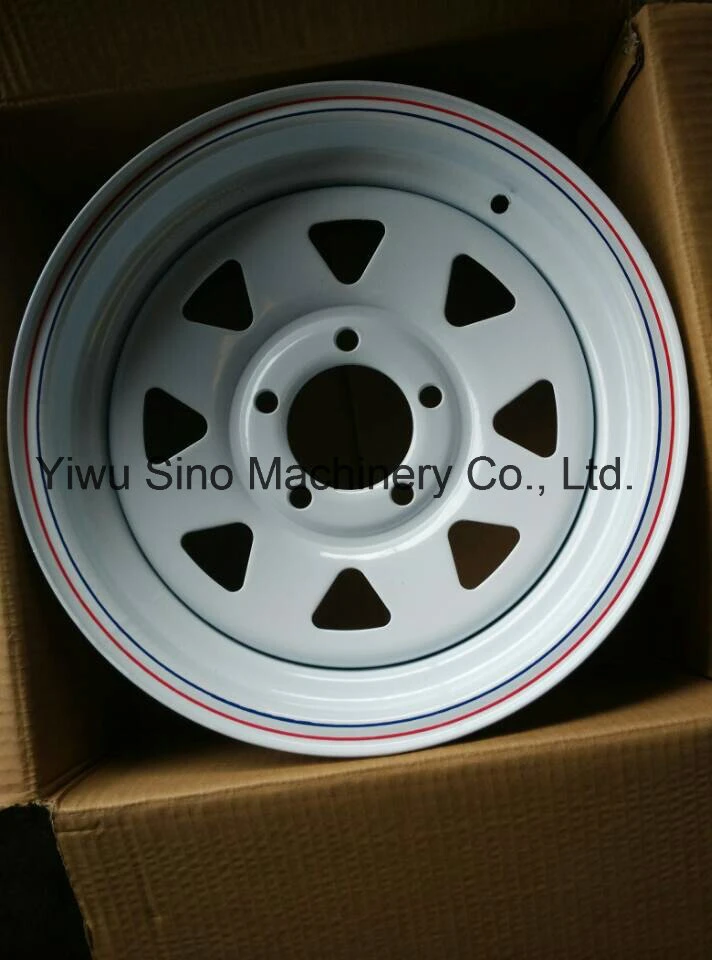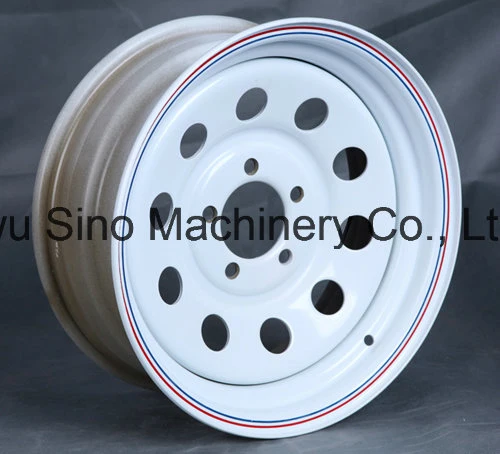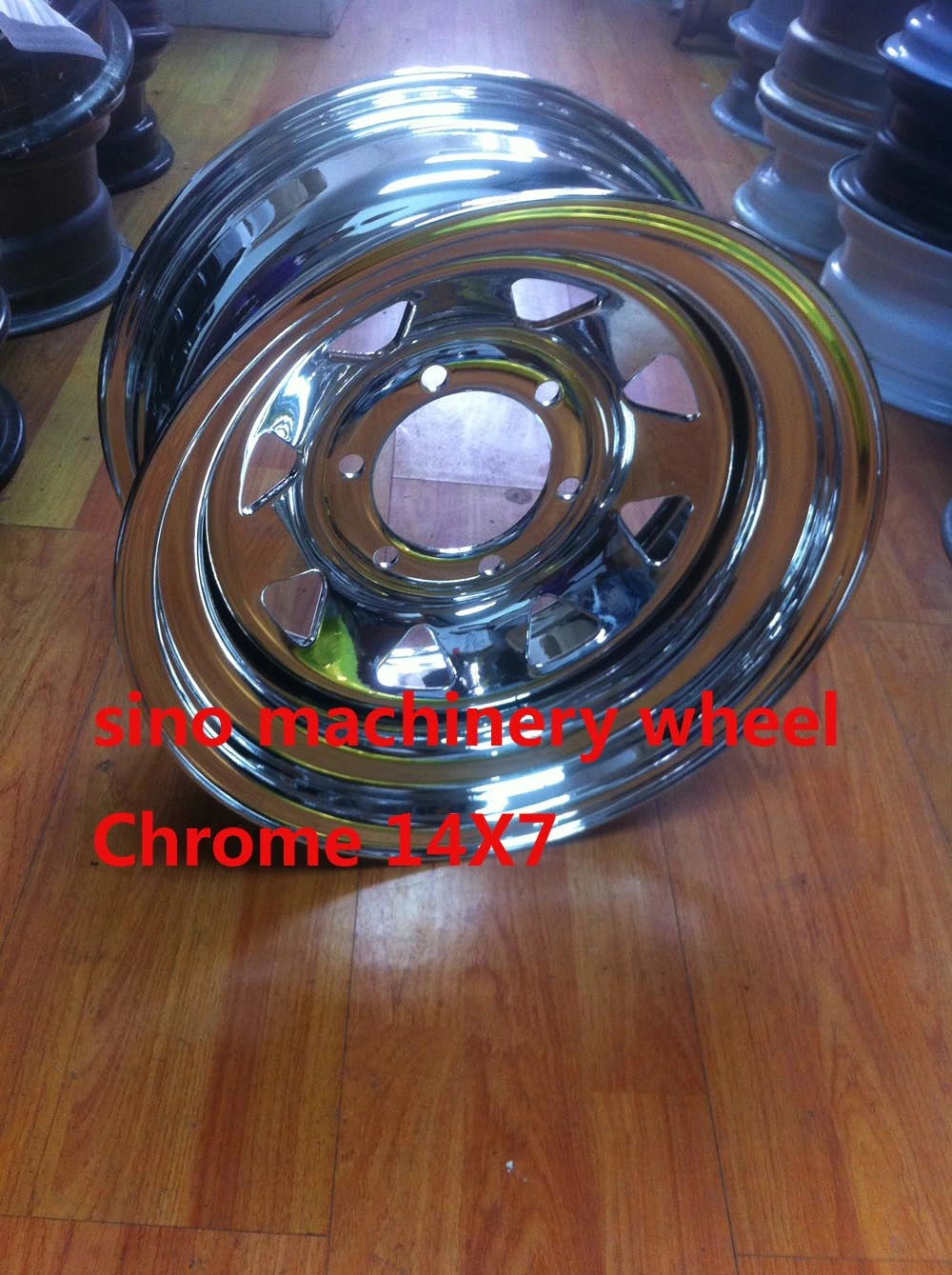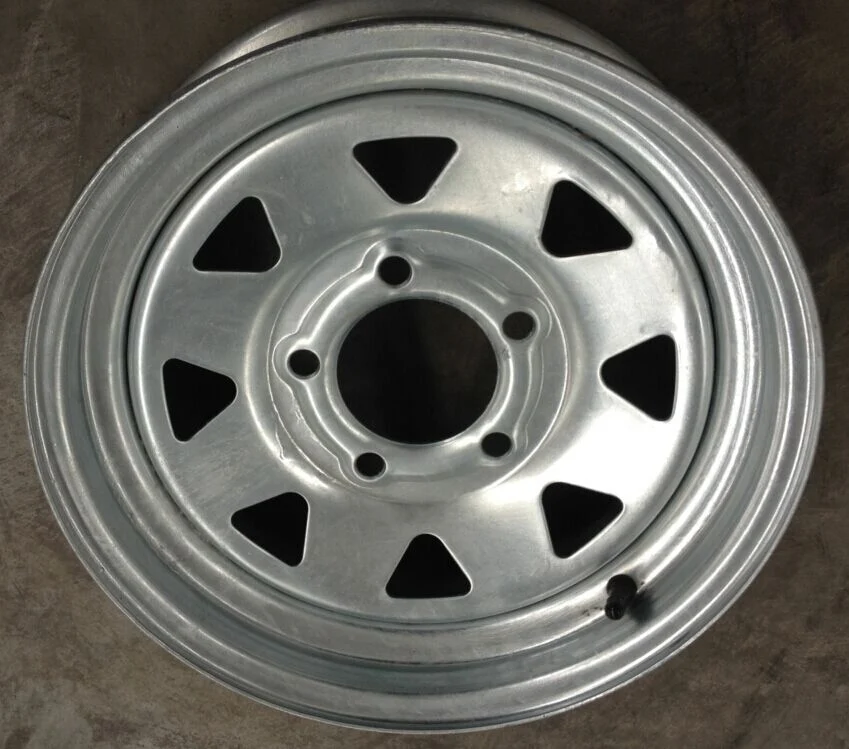 | | | | | | |
| --- | --- | --- | --- | --- | --- |
| SIZE | MODEL | PCD | C/B | ET | LOAD INDEX |
| 12X4 | EIGHT SPOKE | 4X101.6 | 72 | 0 | 1045LBS |
| 12X4 | EIGHT SPOKE | 5X114.3 | 75 | 0 | 1045LBS |
| | | | | | |
| 13X4.5 | EIGHT SPOKE | 5X114.3 | 75 | 0 | 1480LBS |
| 13X4.5 | EIGHT SPOKE | 5X108 | 75 | 0 | 1480LBS |
| 13X5.5 | EIGHT SPOKE | 5X114.3 | 75 | 0 | 1480LBS |
| 13X5.5 | EIGHT SPOKE | 5X108 | 75 | 0 | 1480LBS |
| | | | | | |
| 14X5.5 | EIGHT SPOKE | 5X114.3 | 84 | 0 | 1870LBS |
| 14X6 | EIGHT SPOKE | 5X114.3 | 84 | 15 | 1870LBS |
| 14X6 | EIGHT SPOKE | 6X139.7 | 110 | -10 | 1870LBS |
| 14X7 | EIGHT SPOKE | 5X114.3 | 84 | 0 | 1870LBS |
| | | | | | |
| 15X5 | EIGHT SPOKE | 5X114.3 | 84 | 0 | 1870LBS |
| 15X5 | EIGHT SPOKE | 5X127 | 84 | 0 | 1870LBS |
| 15X5 | EIGHT SPOKE | 6X139.7 | 108 | 0 | 1870LBS |
| | | | | | |
| 15X6 | EIGHT SPOKE | 5X114.3 | 84 | 0 | 2150LBS |
| 15X6 | EIGHT SPOKE | 5X127 | 84 | 0 | 2150LBS |
| 15X6 | EIGHT SPOKE | 6X139.7 | 108 | 0 | 2150LBS |
| | | | | | |
| 15X7 | EIGHT SPOKE | 6X139.7 | 108 | -7 | 2150LBS |
| 15X7 | EIGHT SPOKE | 5X114.3 | 84 | -12 | 2150LBS |
| 15X7 | EIGHT SPOKE | 5X127 | 84 | -12 | 2150LBS |
| 15X7 | EIGHT SPOKE | 5X150 | 112 | 0 | 2150LBS |
| | | | | | |
| 15X8 | EIGHT SPOKE | 5X114.3 | 84 | -25 | 2150 |
| 15X8 | EIGHT SPOKE | 5X139.7 | 108 | -25 | 2150 |
| 15X8 | EIGHT SPOKE | 6X139.7 | 108 | -25 | 2150 |
| | | | | | |
| 15X10 | EIGHT SPOKE | 6X139.7 | 108 | -44 | 2150 |
| | | | | | |
| 16X6 | EIGHT SPOKE | 6X139.7 | 108 | 0 | 3000LBS |
| 16X6 | EIGHT SPOKE | 8X165.1 | 125.7 | 0 | 3200LBS |
| | | | | | |
| 16X7 | EIGHT SPOKE | 6X139.7 | 108 | -12 | 3000LBS |
| 16X7 | EIGHT SPOKE | 8X165.1 | 125.7 | -12 | 3000LBS |
| 16X7 | EIGHT SPOKE | 5X150 | 112 | 0 | 3000LBS |
| 16X8 | EIGHT SPOKE | 6X139.7 | 108 | 0 | 3000LBS |
| | | | | | |
| | | | | | |
| | | | | | |
| | | | | | |
| 16X6 | MODULAR | 8X165.1 | 130.8 | 0 | 3200LBS |